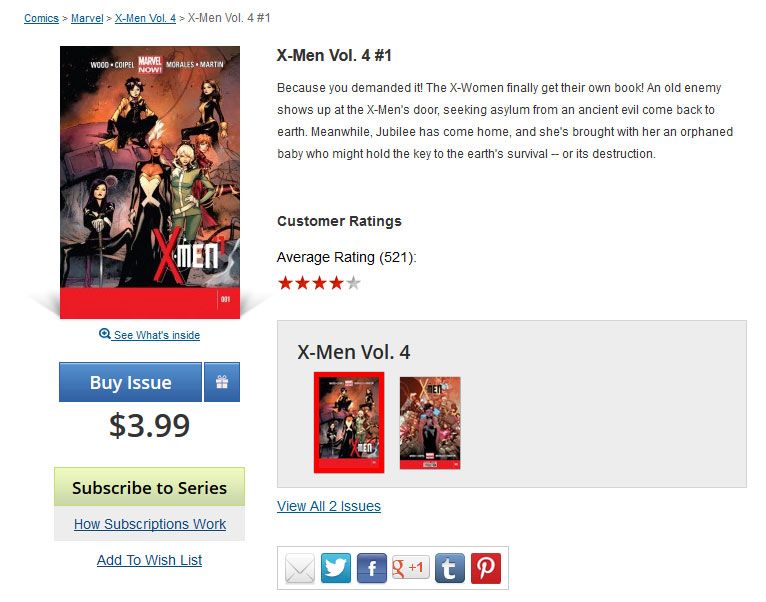 I really wanted to buy the new all-female team
X-Men
title from the start, but $3.99 a pop is way too much to pay for a 22-page comic book.
In fairness to Marvel, I have paid the equivalent of eight dollars for a brand-new printed comic. As you know, I live in Japan and sometimes imported comics show up at bookstores with those kinds of mark-ups. I've bought comics for around five dollars at places like Blister. Scarcity and desperation played a role in my acceptance of those higher prices.
But now I find new comics readily available online, and vast back catalogs opening up there as well. After having spent a lot of money at Comixology and Dark Horse Digital, my price expectations are coming back down to earth.
It's relative to the package you get, as well. I'm pretty sure Woods's
Conan the Barbarian
came out at $3.50, which is still too expensive (and I bought those issues for more in yen), but the first story arc has the draw of Becky Cloonan artwork, plus some added value with the little Robert Howard comic strip and letter pages. Also, the print versions have a heftier feel than anything Marvel puts out and that makes higher prices a little easier to take. Now available digitally at a reduced price $2.99 each, they're still a bit of a wallet-strain, but Dark Horse has bundled three issues each into quite economical $4.99 packages. Customer relief!
Publishers frequently offer titles for .99 on Comixology, $1.99 is my favored "regular" point, and I can do $2.99 if it's really something special. But $3.99? For 22 pages? Well, most of us want things we can't have and so we make choices. For me, I also think it would be nice if Ferrari sold their cars for a dollar and we could all zoom around. But they don't (because they wouldn't be in business very long if they did something that stupid), so we don't. And while their comics certainly aren't as expensive to make as elite sports cars, Marvel, like Ferrari, knows what the market will bear and right now, that's $3.99 for most people not named Joel Bryan. Pricing a slender comic book this high makes my choice pretty easy. I still want to read this, but like the thrifty shopper I've become, I'll wait for a sale or the collection and buy that instead.